So, there I am minding my own business (that's a first) and I meet a woman, a beautiful, sexy woman who is clearly a Bollywood film star or Mediterranean royalty. It turns out she is much more than all that she is a foodie!! Bliss! And not just any old foodie either, it's only Tonia Buxton – the award winning presenter and author of 'My Greek Kitchen' and 'My Cypriot Kitchen'!! Well, knock me down with a dolmade! There's simply nothing this lady cannot do. Check out her website to get the full picture www.toniabuxton.co.uk.
I'm heading into the kitchen armed with 'Tonia's Greek kitchen' (cookbook) and some Yamas! Smoked Greek Cheese which the lady herself gave me to try. A rummage through the freezer produced a packet of filo pastry (I'm so Nigella…) and cowering in the crisper drawer of the fridge is a bag of depressed spinach so this can mean only one thing…spanakopitta! With a smokey twist…
I have to admit at this point that I'm a lazy cook and tend to fling stuff together and freewheel through recipes in the most disrespectfully cavalier way. Tonia's fantastic recipe is available in her book or on line so this is just a quick version of what I did and as Tonia says, 'there's room for interpretation', which is a green light to me! So if you're of a sensitive mind then look away…
So I chopped some spring onions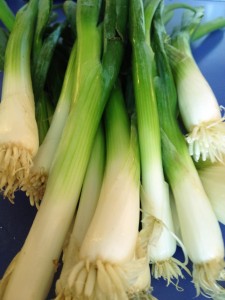 (I started finely at the stark white end and the pieces got bigger and bigger towards the tubular emerald green end) and sweated them off in some olive oil, chucked in the spinach and wilted it into submission.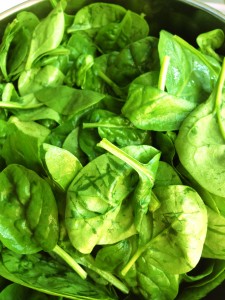 Then drained and cooled it and added the eggs and seasonings and the all important Smoked Greek Cheese. Yamas! (Greek for cheers!) are the only people who make this and it's feta cheese (but you can't call it feta once it's smoked apparently…always learning!) that has been naturally smoked over beech wood. Yum.
As I had two packets I slung it all in! Actually, I ate a lot of it first during the 'tasting' stage when I was seeing what it was like. Amazing how many times you have to taste something before you can be sure it's nice all the way through…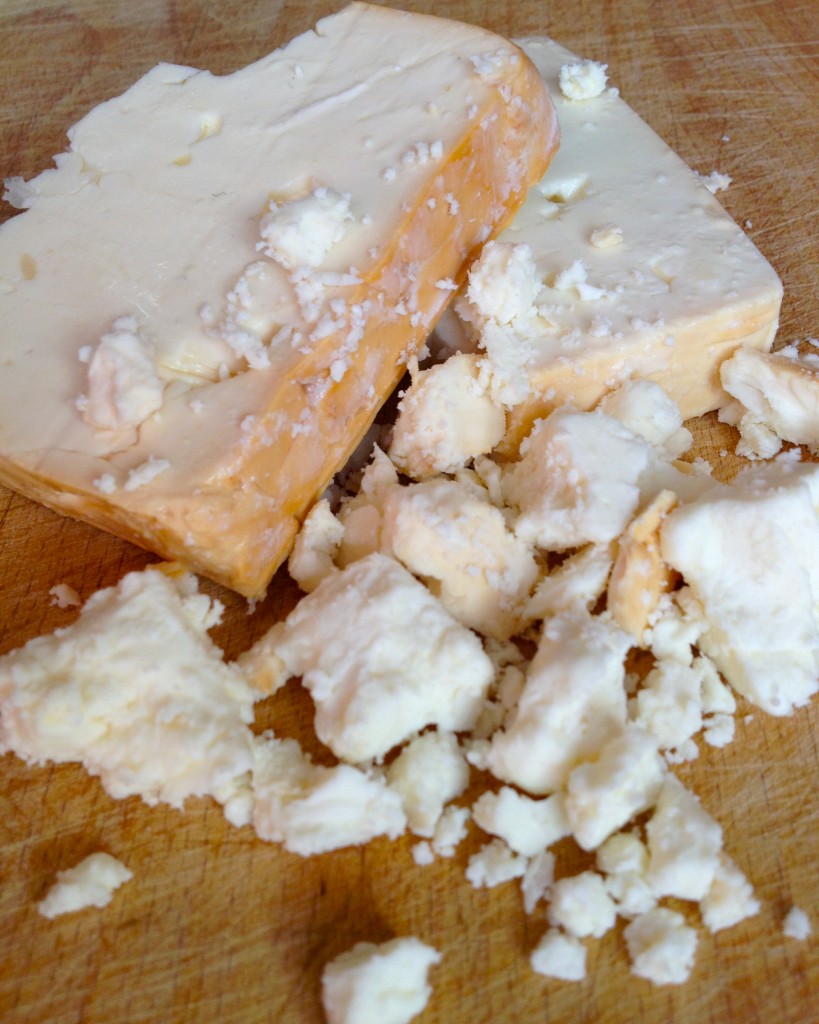 Layering the filo sheets with a brushing of the guilty pleasure that is butter and then the aromatic, dark green filling specked with creamy white cheese (tasting as I go…under the excuse of '…then taste for seasoning' and yes I do need a whole tablespoon full to test the seasoning. Thank you…) and, finally, repeating the layering of the pastry sheets.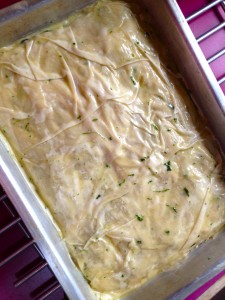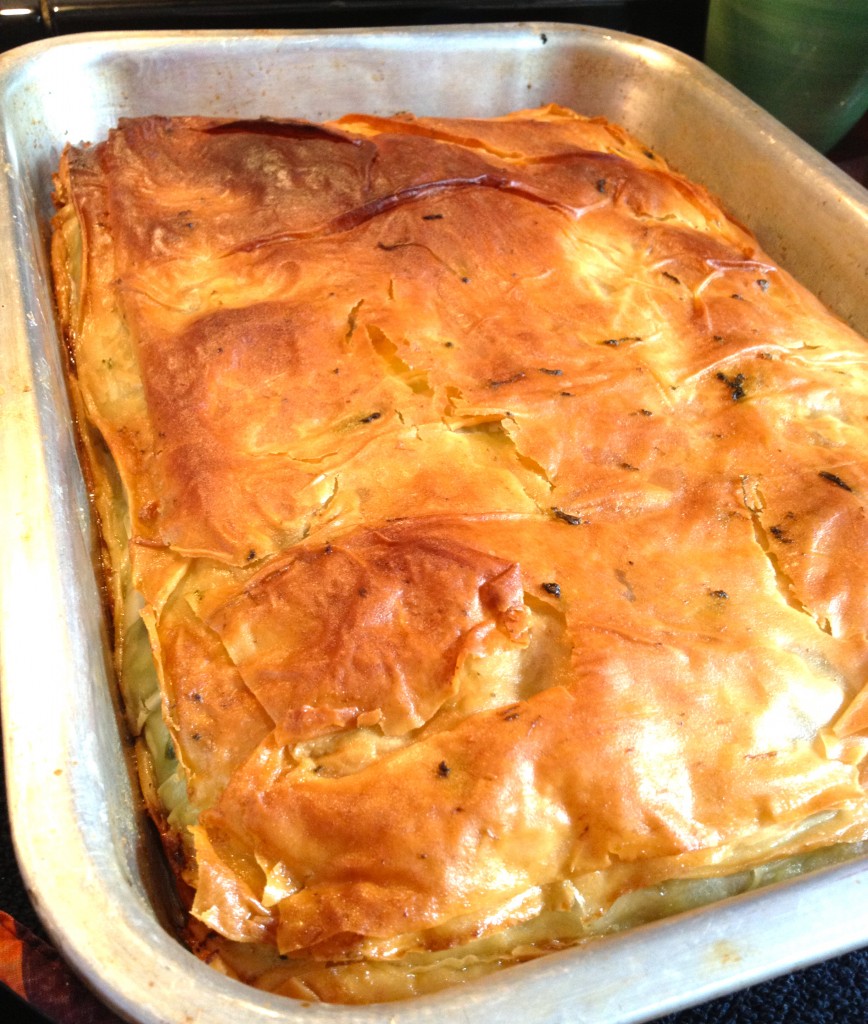 Cooking this, as I am, in an Aga meant a little guess work on the timings but the transformation from the pastey, cadaverous white of the uncooked dish (that spinach gets everywhere…!) to the St Tropez golden, brittle topped, finished product is a wonder to behold.
This was so easy to make and I can already imagine variations akimbo that I'll be trotting out at any possible moment. Be warned dinner guests…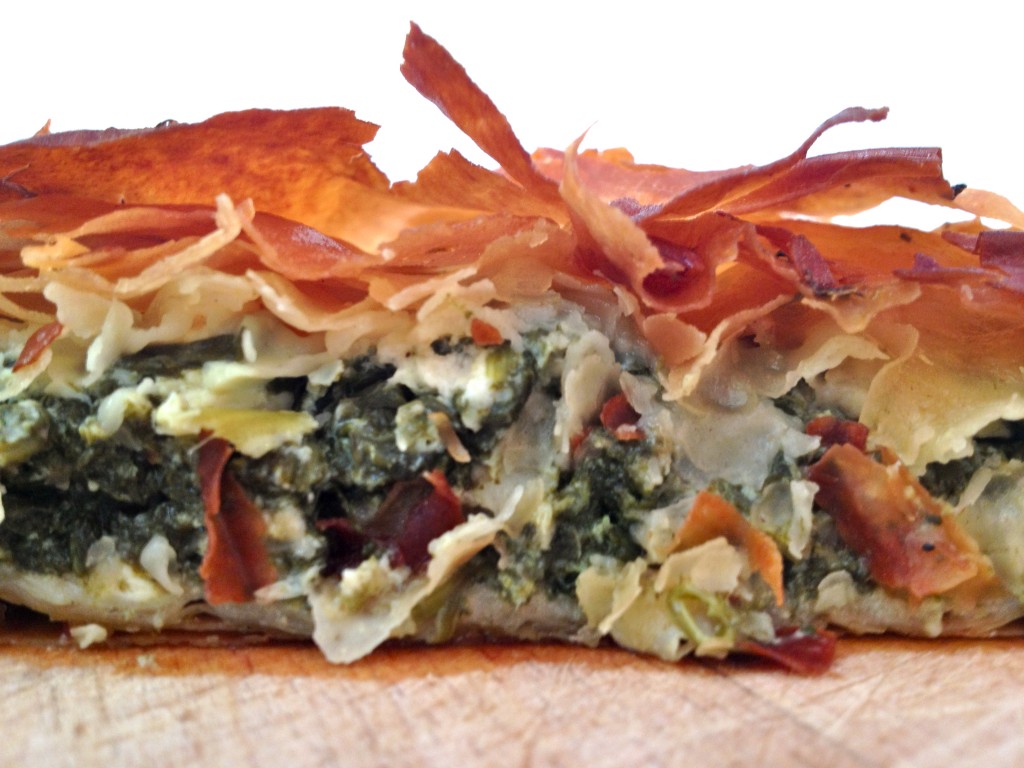 N.B I drained the spinach mixture quite thoroughly and I used an extra egg. I also used two packets of filo ready made pastry (which I didn't cut to the roasting tin's size, I just ruched it about a bit to fit it all in). Yes, yes I could have made baklava or some such with the couple of remaining sheets but I didn't. So there. I just cooked them all. I'm lazy (and greedy), what can I say…