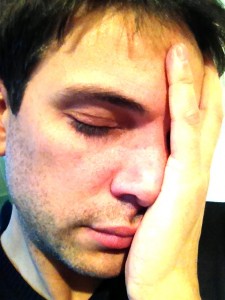 I woke up this morning looking like a rat catchers kit bag (dang those Manhattans)…and thought well it's a good day to try the Liz Earle Brightening Treatment Mask…silver lining! Hoorah…
I have the luxury of being able to ask the clever girls at the Liz Earle concession in, yes you guessed it, John Lewis, for some application tips. I honestly don't work for JL…I just like the shop…not the bogs though as they are actually repellant…anyhoo…I digress…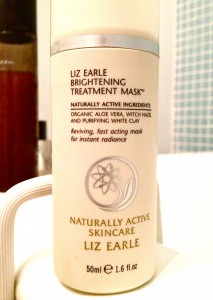 'The key thing is', I'm told, 'apply means smooth on but don't rub. Apply a layer all over or just on a specific area you want to brighten up, like your cheeks, and feel free to mix and match masks using, for instance, a clay one on the t-zone at the same time.'
N.B: You can use it 1-2 times a week, 'they' say but it depends on what else you are using,of course,  because you mustn't over stress or irritate the skin.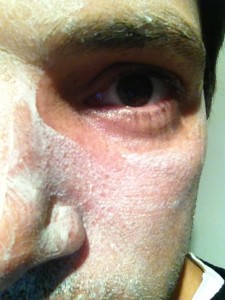 So, I 'applied' it kind of all over – I miss out my beard area as it gets a bit awkward trying to smooth product over stubble and anyway that area gets quite ravaged as it is skinned a few times a week by a razor! The instructions say leave it on for 30 seconds to 2 minutes but I got involved in a cup of coffee and got mithered by the dog for attention (she's so demanding…and loves the taste of skin products…Labradors will actually eat anything!) so didn't end up taking my (hand) hot cloth to it for a good 5 minutes. It says 'you will experience a slight tingling sensation. This is normal.' Fair do's I did indeed, but its only like a tingly mint feeling (the camphor oil? Linalool?) and not weird or scary!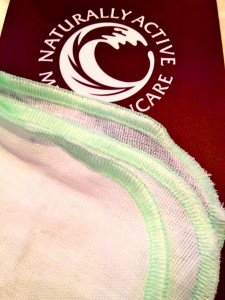 The muslin cloth is used to 'gently wipe away' the mask, so again no rubbing or exfoliation through abrasion just sweeping away the mask and rinsing away all product. A bit of exfoliation happens anyway because the cloth isn't exactly silky soft which isn't really a bad thing…you
all
know how I feel about exfoliation. A friend uses an old muslin nappy which has been washed to oblivion and is ultra soft and gentle…I know, I know…it's perfectly clean and sanitary I just can't shift that image you're visualising right now either…however, her skin is amazing! Damn it…
…but I'm not sold on this hot cloth business I'll be honest. It's all a bit faffy face flannely for me but I feel I should try to persevere with it, after all it's hardly a new concept to use a face cloth and it was the mainstay of many a historical beauty regime let alone a good way to clean yourself…hmmm….I just feel it in my water I'm gonna ditch it. It's a question of conditioning myself to use it I think…argh another thing to fiddle about with…and then where do I keep it? Where do I dry it? Oh lord it's a Pandora's Box of OCD wrangle…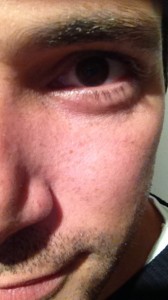 I'll think about that later…in the meantime it's time for a 'brightness' test! Hmmm, well, even if its just the effect of the warm water I do see a waking up of the skin. The patted dry face feels smooth and clean…okay, and bright!
A few hours later it still does actually. I've just been pottering about at home and not out in the skin ravaging London city air, and I didn't 'follow with Instant Boost Face Tonic', as advised on the bottle, so maybe I need to do that for even better results. I would normally have flung a bit of moisturiser on I suppose but wanted to see how long this 'brightening' lasted.
So, I'd say its a pretty decent experience all round and it smells lush too. It's really not suitable for sensitive skin though so be careful and if you're not sure you know what to do don't you? Go ask the ladies at JL!! They'll tell you a thing or two (and you can test everything and wash it all off again in their built in mini sinks!) The starter kit (i.e with the cloth – there's a brown edged one for the boys or anyone with an aversion to sea-green stitching) is only 14 and a bit quid which is comparably cheaper than other products and packed with these things which you will recognise:
Water
Aloe Vera leaf juice
Witch hazel
Silt
Sweet Almond oil
Camphor oil
Fragrance
and these which you may not:
Montmorillonite – a type of soft clay
PEG-20 stearate – popular synthetic emulsifier to combine oil and water
Panthenol – derived from vitamin B5 and used to retain moisture, lubricate and make the skin soft and pliable (it penetrates the skin easily)
Ceteraryl ethylhexanoate – another lubricating element
Cetearyl alcohol – another emulsifier
Citronellol – an oil used to add fragrance (restricted to low doses)
Hexyl cinnamal – another fragrance additive (restricted to low doses)
Hydroxyisohexyl 3-cyclohexene carboxaldehyde – a popular synthetic long lasting fragrance that easily penetrates the skin (restricted to low doses)
Butylphenyl methylpropional – another synthetic fragrance (restricted to low doses)
Linalool – naturally occuring chemical found in loads of herbs and other plants too but it can be a cause of irritation, even eczema, in sensitive skin
Lactic Acid – naturally occurring AHA (Alpha Hydroxy Acid) in milk, but synthetic in many products, used to help shed the surface of the skin
Potassium sorbate – common preservative
Phenoxyethanol –  A paraben alternative as an anti-bacterial and preservative but there's a bit of argey-bargey over it's safety. I see that under 1% is considered okay but many products (like this one) don't list amounts.
Methylparaben – E218 – antimicrobial to prevent fungal growth.
Butylparaben – another antimicrobial
Ethylparaben – E214 – again an anti-fungal
Propylparaben – E216 – another anti-fungal and preservative
Isobutylparaben – another preservative to extend the shelf life but less commonly used
Sodium methylparaben – widely used antiseptic
Sodium propylparaben – another widely used antiseptic
The Great Paraben Debate:
Hmmm…I mentioned parabens in a post earlier and just how contentious the issue is. The concerns are largely about allergic reactions, breast cancer and imbalance of hormones as many parabens are said to mimic estrogen in the body; and due to the huge amount of them used in a vast array of food stuffs and products this has led to fears of dangerous levels of build up. BUT the conclusive facts have remained a mystery to me even though I've read a whole heap of stuff on the subject. So read up and be thorough but don't be alarmist! The beauty business is a vast money maker for many different companies and so it's important to be aware who is saying what and why. Also consider that until any research is conclusive (about lots of ingredients actually in many things) there are people who eat unhealthy stuff, smoke and carry on and seem to live for eons, my point being that some people will react to these things and some people simply wont. There's a whole range of parabens in this product but in tiny doses so that's an important factor too.  I don't claim to know the answers but I think we need to arm ourselves, as ever, with information…so we shall keep our wits about us and keep investigating…