These have been recommended to me by others but I've not tried them. Any others you feel worthy of a mention then please let me know – I'd like to add them to the list. Thank you…
Amala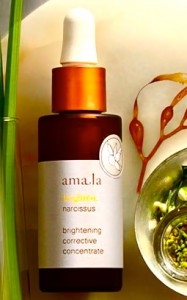 Ute Leube founded Amala after spending years making her own skin care products for herself and friends. The company believes in natural completely and that everything we need to be and feel fabulous is found in the beautifying and therapeutic benefits of nature and just needs very careful harnessing. They use precious, powerful plant ingredients that they respectfully resourced from around the world (organic, fair trade, sustainable and grown in their native habitat) and this is reflected in the price I suppose, you might say, but if a thing is worth having…
Amala does have a good social responsibility model if that is important to you and I think it is a brand that is promoting 'natural' in the right way – i.e. that these ingredients are expensive because they are hard to come by and so money needs to be paid to acquire them. We have been used to obtaining mass-made synthetic ingredients (and some mass grown natural ingredients such as palm oil) that are not subject to fluctuations in production due to the weather, wars, volcanic eruptions etc., for far too long. So we have come to expect (like food) that there is an unlimited supply at a low price. Real, sustainable, nutritious life actually costs more than that.
Proud of their effectiveness, the Amala website is seemingly transparent about their ethos, methods and they even display their clinical trials. They have a few FAQs about their range here. They don't have a men's range and the packaging is a little girly for the 'butcher' members of the readership I fear, but if it's in the shared bathroom cabinet then who's to say who it really belongs too…
Explore their story and vision at http://www.amalabeauty.com and buy stuff in the UK here and follow them on twitter here.
Living Nature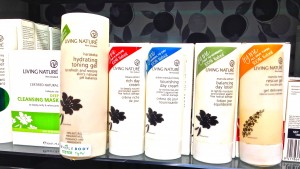 A friend from New Zealand has insisted I take a look at a brand from her native country called Living Nature.
Aesops
Derma-e
This multi award winning California based company is very keen on an all natural approach. The pride themselves on being leaders in the development of formulas that not only nourish the skin, protect and rejuvenate it, but also help rid it of,  and protect it against, issues like psoriasis, eczema, blemishes, scarring and age spots. To quote 'all products have a safe, effective delivery system that is paraben-free, phthalate-free and do not contain sodium lauryl sulfates, petrolatum, mineral oil, and artificial colors. Additionally, the entire derma e line is 100% vegan, cruelty-free and manufactured with wind energy'.
They have a wealth of  women's products but have recently launched a men's range too. As you all know I'm not an immediate follower of gender specific products but these are packaged in a safe black design for those not in touch with their feminine side…
Check it out here and buy in the UK here.