So, what do we know? Perhaps everything, but more likely bog all…
We've thought about individual ingredients that might be contentious, we've deliberated over the use of products –  those that stay on the skin, those that get rinsed off. We've explored the actual and the practical and studied the science. We've learned that skin is an awesome barrier and that the strongly regulated EU ingredients can only do so much, and only on the surface, without the help of (my schoolboy humour's favourite phrase) penetration enhancers. We have seen that some words like 'natural' are at best vague and at worst misleading. We've factored in those who use multi products and we've given passing wonderment to the men who use the shampoo from their heads to lather and cleanse their multitudinous hairy bits!
SO…let's dispense with the theory and get to the practical. Who are the brands we should go for? Which are the products? The following are brands that I feel are worth exploring after loads of trawling through websites and following up recommendations. They largely or completely fit the various parameters laid out previously of actually being properly 'natural' and having a good company ethos or are harnessing the latest tested science or both.
And, of course, there's been weeks of testing…on me! Tough gig…and the long term benefits cannot be truly revealed for another ten years or so!
As of the date this is published I've only tried the individual products I say I have and I've prioritised the anti-ageing stuff as a starting point and cross brand point of reference, but I intend to try other products in the ranges, you can be sure of that! (A separate post is forming regarding shaving and deodorants so more on that anon). If you have recommendations please let me (and the rest of us) know and then between us we can search out the best products. I'm kind of prioritising products for men (as this is how this whole exploration started) but as many brands don't develop to gender specifics (products for skin not gender) there will be cross over. Differences between men's skin and women's are explored here…and here. If the packaging is the issue then guys you'll have to stick to the men's ranges or decant the product into something you don't feel deflates your masculinity…or hide it, or pretend it's your partner's or…just deal with it.
Also, bear in mind what we've learned that skincare can do little, if anything at all, to change the skin at a structural level, especially in the EU where cosmetic ingredients are regulated to such an extent that if they did make any further alterations, they would be prescription medicines (even in unregulated countries, an ingredient can only penetrate so far). So you could argue that if you want skin plumped up with collagen or hyaluronic acid, go to a cosmetic surgeon and get injections, don't spend a fortune on a cream that promises the world! After all, if creams alone worked then would we be seeing such a parade of pulled, plumped, filled and stretched types on our televisions…?
Hmmm…
If I may be contentious for a moment…I cannot allow a subject like this to be published without a comment on what this says about our society. Surely it's high time we allowed ourselves and each other to age naturally. Let me be clear this does not mean we shouldn't make the best of things and protect and even pamper (we absolutely should!) to maintain ourselves in the best condition possible both inside and out. Youth is beautiful and vibrant but it's not better. It just a stage of our lives. We are all beautiful in our own right until someone else points a finger and says we are not. Just consider cases like Nicole Kidman and Madonna and where do they go from here…
Just for the record I do not use gender specific products and I only go for products that offer a result that I think is a logical probability and not some super power miracle working mumbo jumbo. That's the beauty industry technical term I gather…! So the following has a slant towards men's skincare but also includes brands that are trying to give you high quality and effective products with minimal harm to the world and maximum benefit to you.
Green People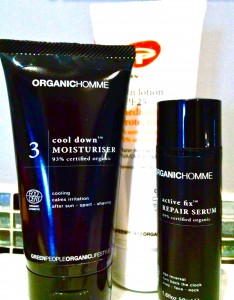 This brand have a product for your every male need (skin care that is…!) so I figure try it all. I can vouch for the 'Active Fix – Repair Serum' as I absolutely love it. Unlike some serums it spreads and covers really easily and although it goes a little sticky as it settles in (just press it into your face) it then disappears and leaves your skin feeling really good. Smells nice too. Blokey even. I use the 'Cool Down Moisturiser" too after shaving, again a little goes a long way and it soothes the skin (pressing gently into the skin) and maybe if I catch the sun a little then it's good for that too…although I never go out with out suncream of course! And they have set me the challenge of trying the 'natural' deodorant. Not, I hasten to add, because I'm a big sweaty mess but because I, like many, have come to rely on the usual chemical laden versions and don't really have a grip on the way the natural works or if it even does. Properly I mean. I haven't had the nerve to wave a crystal under my arm and set off on a day of meetings yet…so, more on this anon. I love this company's ethos, I love their attitude and energy. Don't just take my word for it loads of award giving types agree too.
To quote their website – 'products are not tested on animals and never contain: Sodium lauryl/laureth sulphate, parabens, lanolin, phthalates, propylene glycol, alcohol (ethyl alcohol, ethanol), harsh foaming agents, synthetic fragrances, irritating emulsifiers, PABA-sunscreen, petrochemicals, colourants, urea, DEA, TEA or PEG'S.
The lovely people at Green People have provided this rather good document of FAQ's for our general education –  http://www.greenpeople.co.uk/pdfs/Q&A.pdf
Explore and buy at http://www.greenpeople.co.uk or follow them on twitter here.
Weleda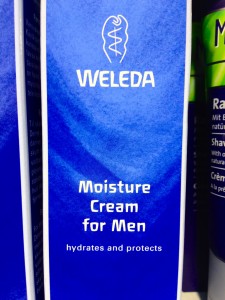 Another must try. Weleda have been around for a long old time (since 1921) and have always had a passion for the organic and natural ethos. Theirs is a philosophy based on the anthroposophic medicine principles (a mix of conventional, homeopathic and naturopathic treatments) and aims to work in harmony with the bodies natural processes. The company's motto is 'in harmony with nature and the human being'. The company produces skin care ranges for body, face and babies as well as their range of homeopathic medicines. Their men's range is small and centered around shaving and moisturising. They also have a deodorant. I'll be doing a review of 'natural' deodorants very soon.
I started using the pomegranate range recently and love it. There are  just a few straight forward ingredients in their products and no fancy additives wielding fancy promises and even the packaging is simple and straight forward. Add to this that the Weleda ranges are seriously affordable, especially when compared to some of the other brands offering similar products (usually not even as good).
Their products for the face, for instance, are grouped into age targeted sets. The pomegranate range is for the over 40's apparently (!) but I like to get ahead of the game…
Check out the whole Weleda glory at http://www.weleda.co.uk and buy men's stuff here (or in bigger Boots and Waitrose!) Or follow the UK lot on twitter here.
Weleda, like Pai Skincare (see below), seem to have ended up in the lower price bracket and in 'whole foods' type stores, compared to newer brands that have been able to capitalise on the trend for 'natural' and 'organic' (and we all know now that can be a load of old boll…er…smoke and mirrors) and place themselves in more 'up market' establishments. Don't be drawn in by the price tag, price tag (sing it with me)…Weleda is probably better!
Skinesis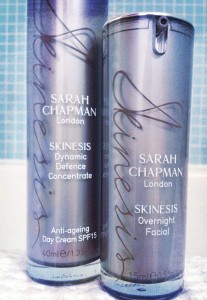 Skinesis was founded by Sarah Chapman and what she doesn't know about skincare and facials is not worth knowing. All pampering aside the key thing is that Sarah bases her products on science. Her lifelong research and trials, and working with her huge client base, has led to the development of a set of multi award winning products. The Age Repair Serum is a light easy single hit product to swipe on and go. This light silky serum is a heavy hitter with concentrated doses of everything you need to protect against environmental damage and dramatically improve the skin. It is designed to boost collagen production, help fight the signs of ageing (fine lines and wrinkles) and even target uneven dark pigmentation!! All this to reveal a firmer, brighter, younger skin (but Sarah expressly recommends a SPF as well…good general advice, I say, or choose a product that has it included like her Dynamic Defence and Dynamic Defence Concentrate. The eye recovery is pretty lush too, smoothing away fine lines and disguising tired eyes with some cutting edge cosmeceutical action! Always a welcome addition to a stressful week! But Overnight Facial is my top pick of her products. 'A potent cocktail of antioxidants, vitamins, anti-inflammatory omega oils, firming Dermaxyl peptide, our skin-brightening complex, and jasmine and rose'. For any guys put off by scents in products let me tell you that these products settle and the scent isn't that strong that it detracts from your machismo, and remember, the Overnight Facial is a night time product and I guarantee your partner won't mind you hopping into bed smelling this divine…! I even believe it'll have fringe benefits…!
Buy, explore and pamper at http://www.sarahchapman.net/ or follow Sarah and Skinesis on twitter here.
Pai Skincare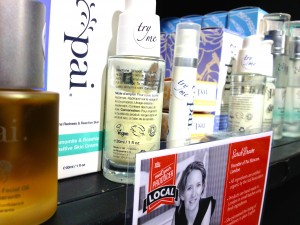 Sarah Brown launched London based Pai in 2007 after her own journey to stop her skin issues led her to research, formulate and create her own products. She says, 'my goal was to create the cleanest plant-based skin care on the market, with a range of products formulated for people with very sensitive skin.'
The company has a loyal following and is much praised in the press. It is an affordable product range of honest, quality ingredients with minimal processing and no outlandish claims and that's worth a lot in this business! The products contain no alcohol, artificial fragrances, beeswax, parabens, SLS, phthalates, formaldehyde, phenoxyethanol or petrochemicals and are created, blended and tested in their own lab premises.
I've got the Echinus and Amaranth Age Confidence Facial Oil. At £46 it's one of their more expensive items but, depending on your skin type, you only use it a couple of times a week. Containing Squalene (from Amaranth/plants not shark's livers!) which is championed as a major moisturiser, anti-inflammatory and skin cell regenerative and with a 30 money back guarantee it's really a no brainer…!
Pai, like Weleda (see above), seem to have ended up in the lower price bracket and in 'whole foods' stores, compared to newer brands that have been able to parade themselves in more 'up market' establishments. The lesson is clearly one we must learn from Jessie J and don't get in a schizzle over the price tag! 'When the sale comes first and the truth comes second…' Read the labels and do some research!! Okay, Sing it with me people…cha-ching, ba-bling…innit…
Check it out, read Sarah's 'Skin Solutions' blog and buy Pai stuff at http://www.paiskincare.com or follow Sarah and Pai on twitter here.
Neal's Yard Remedies (NYR)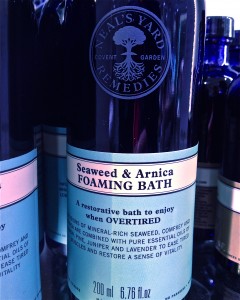 Anyone roaming around the London's 80's scene would have come across Neal's Yard Remedies in Covent Garden. Along with the original Body Shop it was the pioneer, in my memory, for natural concoctions and made the hitherto available world of Oil of Ulay and Pond's cold cream seem very boring! (Although cold cream has a long, long standing reputation for being a brilliant and gentle cleanser, encapsulating what the oil dissolves oil cleansing lobbyists would swear by – and Kylie loves it so…) NYR had healthy herbs and teas in jars, like a sweetie shop, and shelves of eye-catching blue bottles filled with wondrous unknown things with gorgeous fragrances. Not much has changed except the expansion and constant innovating and adding to the products.
Like Pai Skincare (see above) they have their own lab in the UK where they develop and concoct their ranges using the latest 'green-chemistry' and traditional organic ingredients which they choose because they will not do us or the planet 'any harm'.
NYR have a men's range and it is designed to cover all areas of your life. There's a tincture for increasing your vigour (let's not be shy lads!) and ways of giving you a glorious shave and keeping your skin in good nick. Nice smells and even a powder to keep any sweaty bits from causing a stink!
I'm a fan of the Invigorating Body Wash, a gentle yet effective all over body wash that smells amazing and doesn't dry my skin (I've got the skin equivalent of a wadi so this is important!) and a little goes a long way. Hoorah. Same with the Calming Aftershave Balm which seems to calm the razor burn and refresh the skin quickly leaving it soft and soothed…smells good too.
Explore their holistic world and buy stuff at http://www.nealsyardremedies.com or follow them on twitter here.
Suti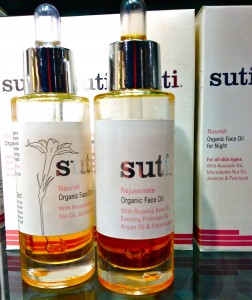 Another British company where everything is developed and made in this country. Sisters-in-law Tina Steadman and Susannah Jenkins have a unique take on the usual 'natural' etc approach as they tie their products into the healing energy of Reiki, Clear Quartz Crystal and the cycles of the moon. Stay with me on this. I'll admit this isn't very blokey (although men have cycles too…no, not folding ones, I mean hormonal but that's another story) but there's such adoration for the rejuvenating oil that I figure let's get down with our softer side, smear on some heavenly smelling oils and wake up looking fabulous whatever the moon is or isn't up to. That's a step over the gender line anyone can learn to live with surely!
When I first tried the oil in a Whole Foods store I sniffed it first – I always smell things first (make of that what you will) and I recoiled a little because it smelled 'off'. That smell oil gets when it's heated and then sits. Well, the shop was red hot under the lights and the product is in clear glass bottles that don't protect it from such abuse. Irregardless, in the spirit of investigation, I slung some on. I fear I didn't get the full thrust of the olfactory element – the intended 'vibrant, mood lifting blend of Neroli and zesty Tangerine' – but the oil sunk in immediately and really made my skin supple and perky. I now love it…the proper version, not the rancid one…
They have an inexpensive and nifty idea of a trial pack which allows you to test the products for suitability to your skin and whether you even like 'em. I have a feeling you will…
The products each have their own 'Energy Intention' so pick a mood and go explore and shop at http://www.suti.co.uk or follow them on twitter here.
Balance Me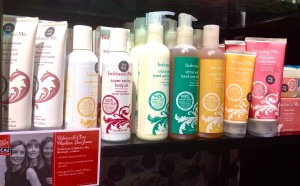 Another multi award winning British brand Balance Me started out on the kitchen table of two sisters, Clare and Rebecca Hopkins, and now along with their third musketeer, Sian Jones, has grown into a beauty product lovers hot favourite.
Like many wholly natural concept brands the access to high quality ingredients, the innovations and technical possibilities now available to them are so hugely improved in recent years and so allows them to employ this cutting edge research and chemistry to its greatest effectiveness to bring a wide range of options for all skin types. Their desire is to restore balance to your skin with their completely naturally active products. They say the following:
'Our modern products combine high grade essential oils, powerful natural actives and extracts plus sophisticated naturally-derived formulations to ensure we can offer the very best natural skincare solutions to benefit and protect your skin each day.'
…and on the all important issue of preservatives in water based products:
'The preservative system we use in our 100% natural products is natural source vitamin E and rosemary extract. Our water-based products such as our creams and washes contain Ecocert-approved (a natural and organic certification body) identikit preservative blend of benzyl alcohol and dehydroacetic acid.'
Obviously, as this is largely an anti-ageing exploration I tried the Radiance face Oil (with the same 'gone off' issues at the same store as mentioned above – blurgh!). You're noticing a theme here, I'm sure, and might be concerned about the use of oil on your skin but it is in fact a surprisingly nourishing thing to smooth on and this one sinks in beautifully and stayed 'present' and 'active' the whole day. There are no elaborate claims of time freezing just lovingly made, easy and affordable ways to treat your skin well.
Explore and buy stuff at https://www.balanceme.co.uk and follow them on twitter here.
Dr Hauschka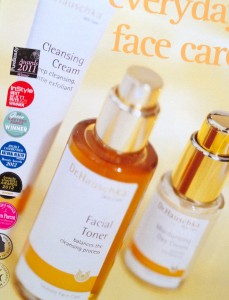 I'll admit this is a less guy orientated brand, well, it's just not that inspiring for blokes, to be honest, but the range is good and their commitment to bio-dynamic farming and new and unique ways of preserving flower oils etc is commendable!! The lady at the head office recommends Radiant You starer kits and a relevant moisturiser for blokes. They don't think it possible to recommend a single product as their products are all designed to work together and use the traditional cleanse, tone and moisturise system. I don't really hold with this to be frank as I think toning is over rated (well, my skin isn't keen to be honest…! Also their products might just have a tad too much alcohol in for my skin hence the drying…) The Rose Day cream is the famous one but the initial rose smell is a bit girly for most men (apparently) and so the Melissa and the Quince might suit better depending on skin type. The people who are at the concession stands in the department stores are there to advise and the Dr Hauschka (Elysia) contact help line is available for advice and information.
Explore and buy stuff at http://www.drhauschka.co.uk/home on follow the UK gang on twitter here or call them for advice on 01386791022.
Aveda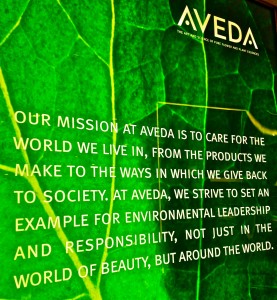 Fundamentally I'm a fan of the Aveda products and their unisex approach (their products are not gender specific) since I worked in an Aveda concept salon years ago. The products are labelled as 98% natural and 2% preservatives. I find that too many essential oils and botanicals break my skin out though (my skin is so common really – it loves chemicals) and although the ethos of Aveda is generally sound (check out their 'green' policies here) they are one of the global brands that test on animals 'when required by law' so if that is a deal breaker for you then I'm afraid you have to stear clear. The bottom line is they are now owned and operated by Estée Lauder. I have mentioned this kind of situation before when a proudly independent and natural brand is sold on to a global marketing group (one that happens to own some skin care brands) it no longer becomes as appealing to me. The Aveda brilliance that Estée Lauder are now just promoting wasn't theirs to begin with it, it was developed by an amazing guy called Horst Rechelbacher. He now has a new company called Intelligent Nutrients.
However, the Estée Lauder wrangle aside, the most popular and recommended product for you guys is the Botanical Kinetics range (and cleanser and moisturiser…er..sorry a hydrator. The gel texture of this gives it a less greasy feeling and it absorbs really well) But I'm going to go with the whole unisex product thing and also mention the Tourmaline Exfoliant Cleanser here. It has little exfoliating beads in it which feel really gentle and a little goes a long way which is always nice. The best thing I found was that it didn't dry my skin out. I find that many times after a cleanse or exfoliate my skin is over dry but this product did not do that. The staff at any of their outlets are hugely knowledgeable and can recommend to you ideal products.
Check it out here and buy stuff at http://www.aveda.co.uk and follow them on twitter in the UK here.
Intelligent Nutrients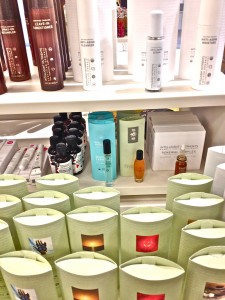 Horst's new products are largely based on a product he developed called Intellimune. It's a powerful concentrated antioxidant seed blend,cold pressed and used at full potency either in his products or sold as an oral supplement. The company claims that the product is anti-inflammatory, fights free radicals and promotes cellular growth and captivity, all this will definitely help us age beautifully!
Check it out here and buy stuff at http://www.intelligentnutrients.co.uk and follow the parent company on twitter in the USA (as the UK link doesn't work!) here.
And finally here's the beginning of a list (that I hope you all add to) of general sites that stock the kind of stuff that we are discussing in these posts and try to make available as big a range as possible of products free from as many harmful or controversial ingredients as they can:
www.soorganic.com – general site and http://www.soorganic.com/men.html for the men's ranges. 'Conventional toiletries contain a potentially toxic cocktail of sodium lauryl sulphate (SLS), parabens, petroleum and synthetic fragrance. The organic men products we have are all free from SLS, parabens, mineral oil, propylene glycol, synthetic colour and fragrance and are not tested on animals, so you can feel confident in choosing anything from our range, including men's skin care.'
www.lovelula.co.uk – general site and http://www.lovelula.com/cat_men.cfm for the men's ranges 'At Love Lula we look for natural products that really are that. Beauty products that embrace the spirit of organic and natural living rather than simply play lip service to it. This means that you won't find any products in our organic apothecary that contain parabens, artificial colours or fragrance, sodium lauryl sulphate or propylene glycol.' Also vegan approved products.
http://www.beingcontent.com – general site and http://www.beingcontent.com/men.html for the men's ranges. 'Opened in 2008, Content is a boutique organic skincare store, naturopathic clinic, beauty salon and website at the forefront of the move towards natural and organic skincare and complementary therapies. Specialising in emerging results-driven niche brands, Content is regarded as London's leading organic and natural apothecary.'