When the divine Lucy S, author of the hugely popular food blog and twitter @LucyintheLarder, http://lucyinthelarder.com/ asked me if I fancied sampling a few eateries in london during her whirlwind 12 hour trip, I said sure! Little did I know I'd eat 20 dishes in the time it takes most people to do a days work…
The serious business of planning a hard days eating began bright and breezy at Caravan Restaurant and Bar 
http://caravanonexmouth.
co.uk/ with strong, proper temperature coffee and a conflab. Various places and specific items were touted as a 'must try' and a hit list drawn up.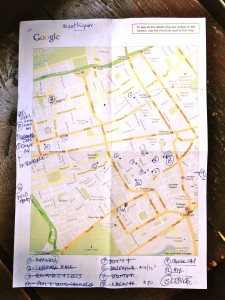 I like a map so we noted the places and plotted a  route. Having heard murmurings that the breakfast was worth a go at Caravan we ordered creamy soy mushrooms on chargrilled sourdough and some cornbread French toast with avocado and bacon.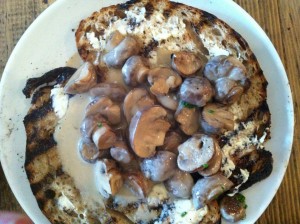 I literally adore mushrooms on toast – it's so simple and yet hearty with some throwback nostalgia to my youth I'm certain…or maybe it's just the butter… These earthy mushrooms drenched in their soy based sauce did not disappoint, and matched against the milky sour charred bread made for a very pleasant start to the eating frenzy…and a rather filling one too! Oh well, one down 19 to go…and for your information eggy fried cornbread with smooth ripe avocado and crisp salty bacon is a right combo!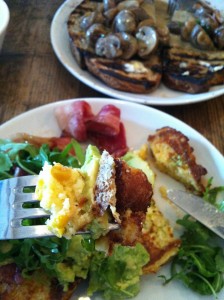 Choosing to walk from Exmouth Market through Holborn down into Covent Garden meant walking off that breaking of our nighttime fasts and building an appetite for the next stop which was the much adored (by me) Fernandez and Wells. Most Londoners will know one of their beautiful coffee and sandwich locations and surely everybody loves their stark yet warm environs (lots of bleached wood which gives it a feeling of sitting around a huge chopping board…I mean this as a totally brilliant thing!) But above the aesthetic beauty is the spectacular food. I love the Lexington Street branch 
http://www.fernandezandwells.com/lexington.php
 and this started another theme of our day which was sitting at a bar, a way of eating (and drinking) that we both like very much. I have burned on my memory, from previous trips to F&W, their Morcilla (Spanish style black pudding),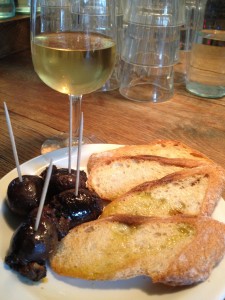 smoked anchovy fillets and an absolute all time favourite of mine, the prize Tuscan salami, Finocchiona (with fennel seeds). So the Morcilla got another airing (perfectly smooth and buttery soft and paired with crisp flattened bread which we spread it on like pâté) and smoked mackerel this time (buttery, smokey fillets that were meaty yet melt in the mouth) and Lomito (lomo) Iberico ham.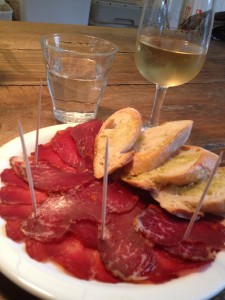 It seemed down right churlish of us not to have a glass of Fino (a pale, dry type of fortified wine or sherry) with this feast (traditional surely?!) so we demurred and, all in the name of 'having the full experience'…knocked it back…well, the sun was over the yardarm somewhere wasn't it?!
Another much lauded (again by me!) place that made the list, and involved yet another perching at the bar experience, was our next stop (a shamefully few minutes later) at Spuntino. 
http://spuntino.co.uk/
 Unlike F&W which nestles its outlets in hip areas or landmark buildings, Spuntino hunkered itself down in the still slightly less than salubrious part of Rupert Street.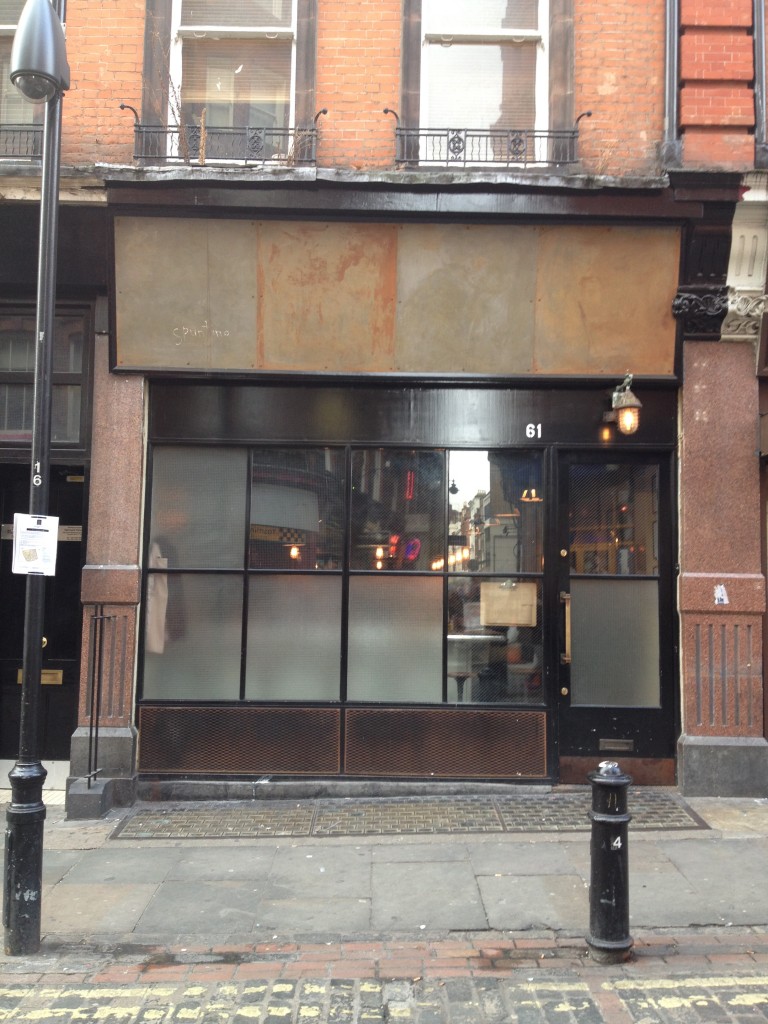 Nonchalantly inhabiting its space with gay bars akimbo, a herbalist and a full nude striptease with hot girls (we'll be the judge of that, dearie) it sits with the restaurant version of an invisibility cloak on. It's industrial and anti-announcement street presence is the ethos of its brilliance. Entering into the former butchers, knocking shop and lord alone knows what, you are immediately transplanted into the buildings history and a casual air of depression area, speak easy rawness. There's no telephone and no reservations…you just pitch up. We were daytime crowd so sat between a middle aged, but hip, natch, couple having an awkward date (and proving it never gets easier) and a uber cool couple (self proclaimed) of which the woman proceeded to try to interest the man in her 'super hot girlfriend' who is totally into money, has had a string of celebrity lovers
but
is SO down to earth and SO normal. The entertainment is free. The food is paired down, not quite to finger food but to hand food, and you just order whatever catches your eye. The very jolly and authentically accented barman (Canadian but lets not split North American hairs) inspired us and suggested and chatted away. Bear in mind we were pacing ourselves and had another three lunches to go we decided against the much coveted macaroni cheese and went with the fig, coppa (ham made from pig's neck) and Gorgonzola pizzetta,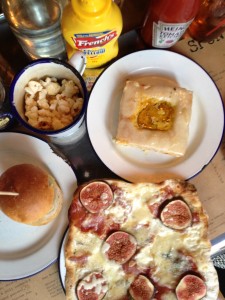 a beef and bone marrow slider (mini burger) and the egg and truffle oil on/in toast. Nothing too rich then…
Lucy and I had devoured a brace of pizzas in Rome (on an hourly basis) and especially admired an apple and Gorgonzola masterpiece (which I will be attempting to recreate one of these days) so the fig version reminded us and was equally splendid. Sliders are big business it seems these days. 'Dude Food' is the absolute way forward in Oz apparently and you can see why really. Small yet packing punch with flavour, a cross between a taster and a starter, perfect for pre drinking lining of stomachs I thought (but kept to myself…one doesn't want to seem too Prosecco addicted). I'd tried the egg toast before and remembered its utter indulgence and clawing richness. It's really not for the faint hearted but
has
to be tried! The truffle oil kick is unctuous and heady so be warned but be brave…!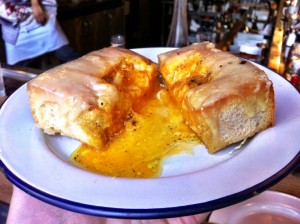 Lucy was introduced to Dandelion and Burdock too. I described it as a cross between Vimto (or Dr Pepper) and TCP! Again meant in a loving way as a love Vimto and TCP is beyond criticism…
Having seen a restaurant with 'Bill's' emblazoned upon it many foodie types may have at first made a connection to Bill Granger the celebrated Aussie restauranteur and food author. But it's actually Lewes's Bill Collison (ok, yes it's not quite the grocery shop cafe it was in Lewes but that's corporate roll out for you…) 
http://www.bills-website.co.uk/
 I like it a lot and although came late to the party (didn't go in my first Bill's till it opened in Coventry Garden..it was
so
five-minutes-ago by then…) I have made up for it since. I was about to lie. Yes, actually, bald faced fib, and say it's the lovely food and the bulging shelves of beautifully designed and colour drenched produce, the chalk board charm and whole 'just walked into a posh green grocers' ethos…but it's none of these. It's the Hedgerow Fizz I go for. So sue me.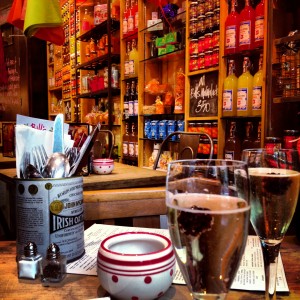 It's the simplicity of it and the ultra quaffability! Make it at home with sparkling wine (try the English ones they are so special!), a dash of elderflower cordial and a blackberry floated in it. It's the daytime version of a Twinkle (a vodka, elderflower cordial and sparkling wine cocktail. Bliss. Although I've gone off the name since a friend told me it's what she calls her privates…! Anyhoo…I digress…) The blackberry turns the drink a glorious pink colour after a while…so I'm told. I really must try to wait long enough to observe this one of these days… We had no plans to eat at this point, thinking that a small rest might be in order and a chance to test my personal theory that a glass of bubbles settles the stomach and makes room for further indulgence…and two glasses (perhaps not in such rapid succession for future reference) would do the job twice as well. Then we spied the following collection of words that filled both our greedy hearts with joy…"lemon meringue pie cheesecake 'in a glass' with yoghurt ice cream"…well, I never! But did we ever! It's a many varied taste experience, texture experience and even a warm and cold dual play…and all in one glass! The tingly tartness of the lemon shoots through everything and the clinging sweetness of the merengue is off set softly by the gentle yoghurt ice cream and the salt tinged crunchy biscuit base…swoon…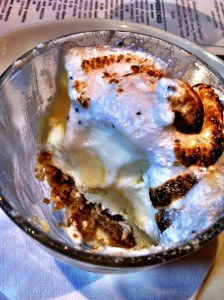 Before I finish part 1 of this display of gluttony I think I should mention that, of course, I engineered our walking route to take us past the irresistible front door of Paul A Young's multi award winning house of chocolate! 
http://www.paulayoung.co.uk/shops/wardour-street-soho/
 I mean, Lucy
had
to try the international award wining sea salted caramel, right?! Proof that Brits know about chocolate and the European snobs (jealous) just have to get over it! And slinking into the shop under the guise of sampling a trade mark chocolate means the chance to try the other superlative flavour combos that include Marmite, black pudding, Bakewell Tart, black pepper and crystallised mint, tequila…ad lib to fade…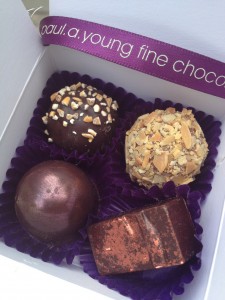 to be continued…