Got some of these…?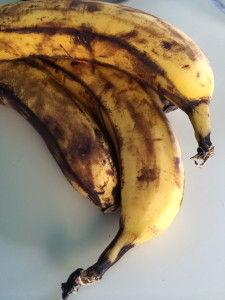 It happens. Those good intentions of eating the whole bunch through the week. Well, this is a perfect way to use them and, in fact, I go to my local Co-op and search out the most over-ripe ones deliberately. So horrified is the lady there that she gives me them discounted and clearly thinks I'm a loon.
Makes 6 largish muffins or 1 loaf .
Pre-heat oven to about 190
200g of flour (I use a combo of wholemeal and Spelt – too little gluten will make the muffin heavier – but experiment with just about anything you fancy or have lying around)
1 tsp of baking powder
½ tsp of bicarb of soda
100g of dried fruit (I use strawberries, cranberries, cherries and blueberries. Supermarkets pre-pack and pre-weigh these…the darlings. But anything you fancy obvs. Go crazy. Figs are lush in this. Also, feel free to use fresh berries and fruit but all fresh with no dried can make the end result a bit mushy)
4 medium size super ripe bananas
1 tbs of butter – I believe in butter and strongly disapprove of any other versions and 'spreads'…urgh even the word is grim.
A good dash of vanilla essence – I use a cap full
1 large egg
120ml of milk or quarter pint-ish? – sometimes the mixture doesn't need as much or even any milk. It depends on the squishiness of the bananas and the amount of butter you've hurled in. You just need to judge this by eye when the time comes.
In a mixing bowl put the flour, baking powder and bicarb and mix well. Then add the dried fruit.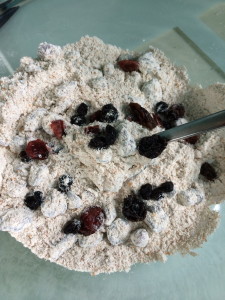 Mix well to coat. Then squish the bananas into this mixture and give them a good bashing.
I like to get involved so I tend to use the best universe-given implements around and mush the bananas into the mixture with my hand. It's very therapeutic…this is the point when recipes usually say twee things like 'kids'll love it!' but I unashamedly admit that I love it!)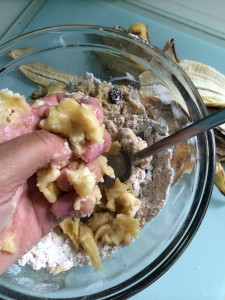 In a separate bowl place the butter – I melt it for simplicity's sake with a quick blast from the microwave but you could just do the following with soft butter and beat it (all very violent isn't it?) all into submission – and add the vanilla essence.
When the butter has cooled a bit (if nuked) break the egg into this and whisk together with gusto.
Add the whole lot to the dry mixture. Gently combine. Don't over mix.
Then slug some milk in if needed. Dunno exactly how much really I just sling some in until it looks right (helpful eh?!?) Remember sometimes it doesn't really need it! 'Til it looks like this: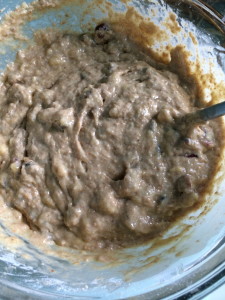 Divide into the muffin tin, or pour into loaf tin, and cook, rotating if necessary, for about 30 mins – depending on your oven and if you're using a loaf tin it will definitely take longer (maybe another 15 mins or so) but once a cocktail stick (I use a chopstick – because it's to hand) comes out clean, well, clean-ish (as the texture of this is so dense) it is/they are done baby!
Allow whole loaf/muffin tin to cool on a rack for a while, maybe 30 mins, and then remove the loaf/muffins onto the rack and allow to cool fully before storing in air tight container until needed for healthy snacking. Or sling a scoop of ice cream over while they're warm for a lush dessert…which ain't so healthy but totally rocks.
The unrefined and different varieties of flour make for a less spongey and springy product. This combo makes a dense and compact loaf which I much prefer. I want a rib-sticking, slow release snack for energy but with mega taste. You must, as ever, do as you please…