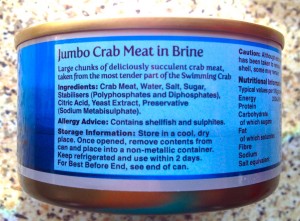 Preservatives – E numbers 200-299
Various ways to make food last longer have been employed throughout history. Unless another method of preserving the food has been used, like freezing or canning, then any food that has a clearly prolonged shelf life is likely to include preservatives. More traditional preservatives such as sugar, salt and vinegar are still used to preserve some foods but just as  likely is some kind of added (probably synthetic) preservative. Most are added to prevent the growth of molds and yeasts but they have some anti-bacterial properties too.
Microbes are everywhere. They are in the air, in the earth, inside our bodies and in the food we eat. Microbes will multiply in the right atmosphere by their millions, and in a really short time, so the certain ones that break down foods are the ones the preservatives are attempting to stop or at least slowing them down. Different microbes react to different preservatives so there are many used in many everyday products and foods. Without them the food would not only deteriorate quickly it would also subsequently allow bacteria that cause deadly illnesses like botulism and salmonella poisoning to spread (especially in animal products).
A common example is that dried fruit (drying is a form of preserving in itself) is often treated with sulphur dioxide (E220) to stop further deterioration. One very important use of preservatives from a food safety angle is its use in processed meats such as ham, bacon, salami and sausages. They are usually treated with nitrite and nitrate during the curing process as bacteria in the meats can cause fatal food poisoning. It is often argued as an example of the benefit of preservatives, in fact, that the tiny 'safe' amount of the preservative used far outweighs the potential damage from the deadly bacteria's they negate.
Many advantages are gained from adding preservatives and generally preserving food. It not only keeps food safer for longer from deterioration or poisonous bacteria, but this allows for increased availability of out of season produce or items that are not native to be transported. Convenience for the consumer is another added value (although can mean the price of the goods is higher) and not only does this mean less wastage but also prevents the need for regular shopping, which is an advantage to many.
Most popular/frequently used in processed foods:
Benzoate preservatives:
benzoic acid (E210)
sodium benzoate (E211)
potassium benzoate (E212)
calcium benzoate (E213)
Sulfite preservatives (E220 – E224)
Nisin (E234)
Propionic acid (E280)
Nitrite preservatives:
sodium nitrite (E250)
potassium nitrite (E249)
Sorbic acid (E200)
Potassium sorbate (E202) – a synthetic preservative used for its antibacterial and anti-fungal properties.
There has been a lot of contention over the use of preservatives in food and there are a number of them in frequent use that have been targeted as not particularly good for us. They are regulated and maximum levels are set to well below amounts that could be deemed at all dangerous. Concern is largely over the accumulation of these 'tiny, harmless amounts' over time could increase the risk of cancer. Also, sugar and salt, whether added for flavour or to assist the preservative nature of processed foods, are also under fire. Their over bearing presence in processed food is a mainstay of the argument against it. I've discussed the horrors of sugar at length previously, here. And discussed salt here.
Common preservatives that are listed as those to avoid are nitrates (Potassium nitrite and sodium nitrite (E249 and E250) – preserve colour and help fight bacteria – stabilising and flavouring too AND nitrItes are considered worse than nitrAtes), sulphites (prevents discolouration), sodium benzoate (preserves against fermentation or acidification), BHA/BHT (preserves fats and oils – as an antioxidant) however without these there is no longevity to foods and there might be many more cases of food poisoning.
Some health experts associate nitrates and nitrites with asthma, headaches and nausea in some individuals. Sodium nitrite is said to converted to nitrous acid within the human digestive system, and this substance has been associated with high rates of cancer in laboratory animals. Reports show allergies to benzoic acid and sodium benzoate can cause severe reactions.
These preservatives are also argued to be safe (not only by the regulators and manufacturers but by some health officials too) and in some cases the preservative is actually promoted as beneficial. These are commonly used and include ascorbic acid (vitamin C)**, critic acid (and to enhance sour flavours) and sorbates (fight bacteria and yeast).
**However, this is contentious (isn't everything?!) as many noted experts have pointed out that added elements such as ascorbic acid, retinoic acid and types of tocopherol (…er…sorry getting carried away (showing off more like?!?) I mean, added elements labelled as vitamin C, vitamin A or vitamin E) are not the actual vitamin at all but just a lab created isolation of them (synthetic versions needed to replace the naturally occurring versions lost during processing – especially vitamin C which is destroyed by heat). The essential theory being that vitamins are complex compounds that need to work within a set of multi level parameters and so creating an individual molecular compound from them might well work as a preservative, antioxidants etc. but does not therefore consequently also work within the body as a fully fledged vitamin. I.e. you're getting the vitamin just not any benefit. The American company 'Real C' use the analogy: 'If you compare Vitamin C to an egg, ascorbic acid would be just the egg shell with nothing inside'.
Hmmm…
So, while it is more than likely 'urban legend' that bodies are not decomposing in the ground due to the large amount of preservatives eaten in a lifetime (although some sources are adamant it is true and it's possible that they are adversely affecting the bacteria that usually break down the body after death) it is safe to say that they're not exactly good for you. The body is still required to break down the chemical and foreign compounds and it would really rather not have to do it too often…and research shows the digestive system struggles to extract any nutritional value from highly preserved foods.