I suppose normal people would have enjoyed the dessert at Bill's and stopped there and languished in the lemony glow (maybe lit a tab in a post summat-or-other way…) but I have an issue with normal and Lucy thinks it's a swear word of the most unpleasant proportions when connected to eating so…I had barely scrapped a finger around the inside of my Hedgerow Fizz glass for the eighth time when madam looked at me and said, 'cactus taco?'. Who can refuse a beautiful blond woman who hits you with that chat up line…?!?
The taco in question is the 'must try' (they say) on the menu at Wahaca – the place for 'Mexican market eating' http://www.wahaca.co.uk/.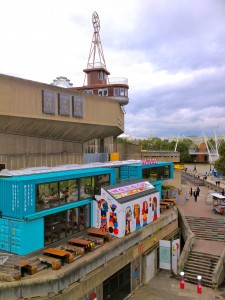 It has a funky, almost other-worldy air of confronting you with a brash desire to give you a good time and a glorious crash, bang, boom of colour and energy (the website will give you the general idea!) Which means, of course, I already love it without sampling a single thing. But we all know that style over content is just plain wrong and bad. Wacaha can deliver though. The super friendly staff at the Wardour Street branch (a cavernous place with some crazy-ass lighting fixtures!) were even happy to let us just sit and have the tacos (I think they could tell by the intent (read 'manic') look in our eyes we meant business). Other things caught our eye though, you'll not be at all surprised to hear, and so we settled down to Horchata – an almond and rice milk drink with a hint of cinnamon, and a Chelada – a beer (in this case Pacifico Clara) with lime juice and a salt rim! Beer tequila style! (There is a tequila bar downstairs at this branch but I stayed well away from it. Me and tequila are arch enemies. Only a Paul A. Young chocolate with it in is allowed…actually encouraged.) Chunks of crisp fried sweet potato with an amazing smoky, caramelised version of mojo de ajo arrived. Mojo de ajo is an amazing thing you can make yourself and use for seasoning, marinating, cooking, dipping or generally dousing things in. I recommend the garlic and chilli (chipotle) version although there is an only garlic one too.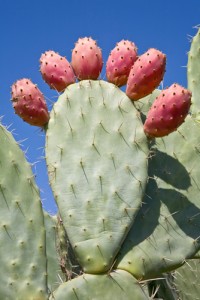 Okay, if you picture a big green spiky thing with 'arms' or Road Runner whenever you hear the word cactus then it may not be the first thing you'd order but if you've never had cactus then I recommend it very strongly. I know you are asking what it tastes like, but the answer is truly it tastes like…cactus. Okay, okay but don't let the following list of things put you off if you don't like them! Promise? Okay, so, I guess it's taste and texture is a cross between courgette, green beans, un-sweet melon, very mild green pepper…this isn't helping! Just try it!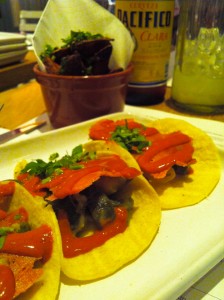 FYI the cactus in question is the 'paddles' of the Prickly Pear cactus (the red pear shaped fruits are edible also and have a similar taste only sweeter) and it is good for you too with a fair few vitamins and minerals and a reported ability to reduce cholesterol – a massive boon for Lucy and me considering our recent intake! The tacos are delicious and have a thin wafer of crisp grilled cheese on them and they are topped off with guajillo oil. Guajillo oil is another garlic and chilli (guajillo chilli's this time) concoction and adds a touch of heat (if you make your own then the more seeds left in the more heat) but a great contrasting, earthy depth to the light and bright taste of the cactus and courgette.
Although I am half Indian, I grew up in Mid-Sussex so could have ended up knowing naff all about India really but the genes will out they say (ain't that the truth about everything?!?) so I adore Indian food. I am spoiled, though, and have eaten Indian food in Indian homes (if you haven't then I promise you it will revolutionise the way you approach and eat Indian food – hmmm…I see a future post forming! Shall pilfer The Sister's recipes…) so that mix of preparation and flavours is the only way forward for me. Everyday dishes and street food basically. So, when I was walking behind Selfridges one day and found myself down wind of the most excellent Indian kitchen smells I did what any glutton would do and abandoned my previous mission and followed my nose. Following the stream of scent like the kids in the Bisto ad I walked into Roti Chai http://www.rotichai.com/. So, when Lucy said she fancied some Indian food I knew exactly the place to return to. Roti Chai discretely opened it's doors (i.e they didn't tell me about it…bloody cheek…) and is the solo venture from Rohit Chugh previously MD of the renown Cinnamon Club. It's a restaurant of two halves, the upstairs dedicated to 'The Street Kitchen' and the down stairs to..er…well, other things! I don't know about downstairs as I've never made it down there. The draw of Papri Chaat, Railway Lamb Curry and their superb Tarka Daal never allows me to descend into the murky under world of 'The Dining Room'. I love street food and I think 'Chaat' type snack food is sublime. The word Chaat is used to describe savoury snacks, especially the road-side kind, but distilled down from various derivations could mean 'a delicacy to lick and devour noisily'! The Mother and I used to frequent Ravi Shankar on Drummond Street http://ravishankaruk.com/ for various puri combos (and the Dahi Vada!) and the sensational Mysore Masala Dosa. YUM!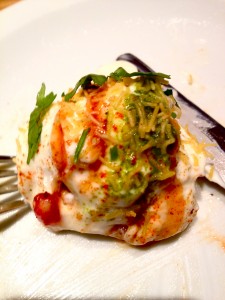 A lot of reviewers of Roti Chai will encourage you to have the more famous Bhel Puri but I urge you to have to Papri Chaat. Papri refers to the crisp dough wafer that is usually piled high with pieces of boiled potatoes, chick peas, yoghurt, a tamarind chutney or sauce, sev (thin strands of deep fried noodles made from chick pea flour) and some chaat masala (A combination of spices like cumin, dried mango powder, black salt, ginger etc – I think it's all about the black salt though!) RC serves a long plate of these intensely delicious north Indian snacks. The combination of a big gob and greed means I hoy the entire thing in my mush in one go. The flavours all withstand each other and step forward to present themselves and take a well deserved bow. Please try it…it's actually sublime!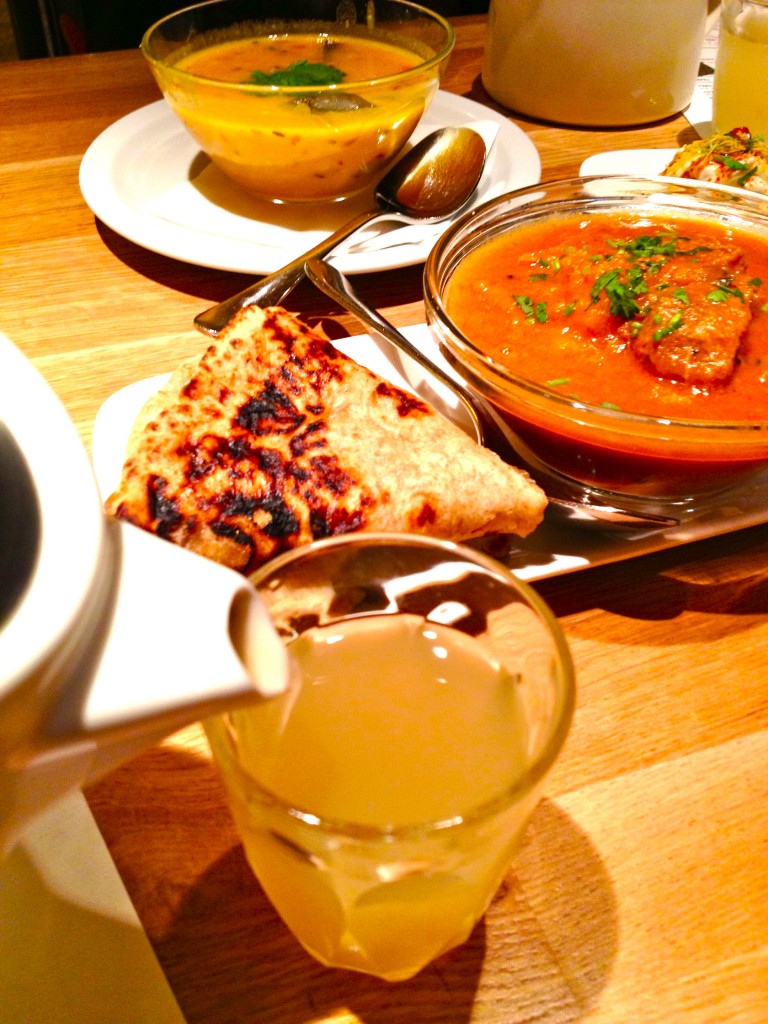 The Railway Lamb Curry is so beyond words that I'm struggling to describe it. It's rendered me speechless…and anyone who knows me knows that's damn near a miracle…! So, I'll digress (as per) into a mini history lesson. This type of dish was developed during the days of the Raj when travelling by rail was quite cool and really the only way to transport oneself from the hot, grimy heat of the cities up into the leafy, lush and cooler hill stations. Slightly tart (from the tamarind juice) and quite mild, yet with deeply earthy flavours, matching the meltingly soft lamb, makes this a dish for all curry lovers. Tarka Daal (a daal finished off with garlic) is my absolute favourite. A staple food of a huge majority in India, daal (and) rice and a stunning combination in it's simplicity and nutritional value. I think of it, like many Indians I know, as comfort food. The Tarka Daal at RC is like I remember from India and gives me such a serious comfort rush! It also has curry leaves in it which I love so much it's actually a bit perverse. Mixed with rice (I had white at RC but at home I'd totally go with some nutty brown or even a mix with some crunchy, woody wild rice) it is a dish fit for kings and eaten by all ages, classes, castes and beyond. At RC they have a signature drink. It is a cocktail in a teapot. Camp? Well, yes. But worth the risk. A lychee martini arrives in a teapot (for two people technically but…yes, you guessed it…we had one each) and is poured into robust tumblers, another example of the split personality of the restaurant. The exotic floral sweetness of lychee swirled around the other dishes and brought out, and yet brought together, all the elements to make for one hell of a good meal!
Swooning as I was from this heart-achingly delicious saunter through Indian street food I allowed myself to be led like a lamb to the über hyped shrine of Barrafina http://www.barrafina.co.uk/. The stools only, seated around the bar, sister restaurant to Fino is a first come first served tapas bar in the heart of Soho's Frith Street that has the creed that fresh ingredients are served with no fuss and no frills. It's self-assuredly busy from the minute it opens at noon. A line forms and everyone seems actually keen to wait so that has to be a good sign. There are people there having a swift few plates for a quick meal and others there seeming to be hunkered down to try everything on the menu till they burst in some unseemly Monty Python way.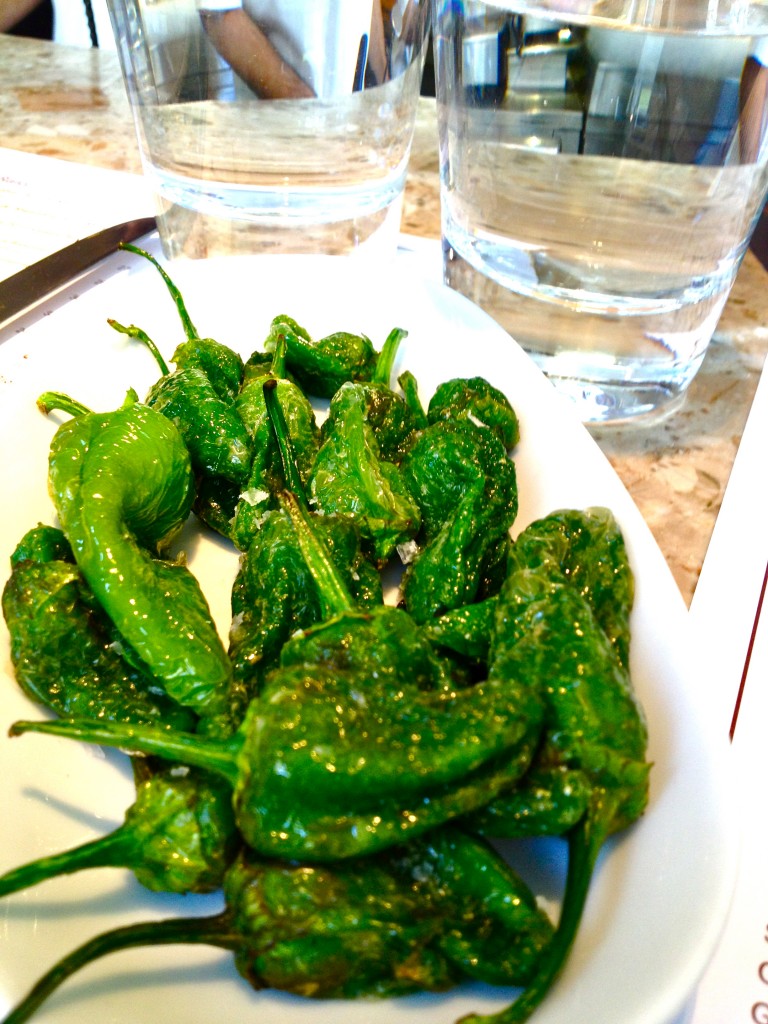 Luckily we found a two spot and wedged ourselves in. Now I should point out at this point we were thinking we would have to reign ourselves in a bit, but faced with a menu of items that trigger a spark of lust deep down somewhere unmentionable then what's an addict to do?!? Pimientos de Padron could arguably be a dish we could have skipped but why deny yourself the roulette of eating these. Huh? I hear you say but the 'fun' is that one of these searingly green mini peppers will be scorchingly hot! Whether the odds are it's one in ten or ten per cent or whatever…all that pales into insignificance if you pick the one pepper on the plate that is going to rip you a new sinus system and have you praying you put water proof mascara on! Sod's law would have it that yours truly picked that very rascal first time and bit a big healthy chunk out of it before the heat hit. Crikey. It wasn't as bad as I'd expected and I ended up enjoying the volatile oils punching their way into my mouth and took my mind off the heat by thinking about the health aspect (I didn't do anything of the sort, of course, but we will now…) Padrons contain good things like vitamins, iron and calcium and they are reported to be beneficial for your digestive system, circulation, blood pressure and cholesterol…the little darlings…well, except for that hot one.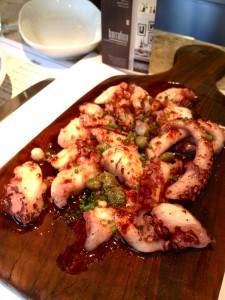 We coveted an octopus dish (Octopus and Capers) we saw glistening and succulent in front of our neighbours.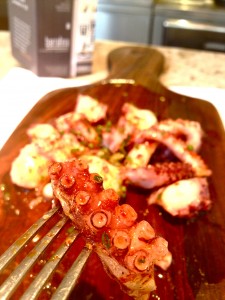 I do understand if you're thinking 'eew' because I used to be a tad squeamish about things that look like the thing they 'were' (suckers and tentacles never have eat-appeal I think) but I made a vow with myself that if I was willing to eat a nicely, politely packaged homogenised part of a creature then I had to embrace the less neutralised bits. Octopus has a wonderfully meaty texture and isn't 'fishy' or chewy (when it's fresh and cooked right) and is a low fat source of protein and contains all sorts of useful things like taurine, omega-3, several vitamins and ace minerals like iron, phosphorous and selenium…but it does look like what it is/was so be brave and embrace the challenge! Next up was a plate of Salt Cod Fritters. I love salt cod (cod that has been salted and air dried to preserve it) but can't usually be **sed to cook with it myself as it's a bit of a fanny on to rehydrate etc. so I am drawn to it when I see it on a menu.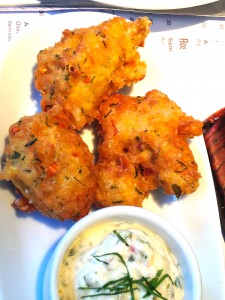 Fritters not a fishcake offered here therefore no potato (loathe a fishcake that is really just potato that's been wafted in the general direct of fish).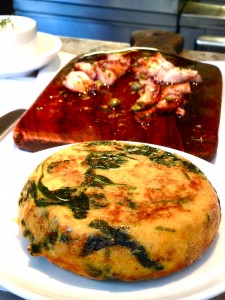 Also arriving was the item I was the most excited about, the Jamon and Spinach Tortilla. The enthusiastic chap behind the bar recommended the Classic Tortilla and going against recommendation could be considered foolhardy but in truth it's unlikely any of these tortillas are anything but divine.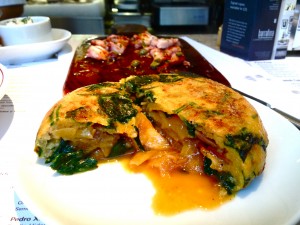 This tortilla was a piece of culinary art. I've made versions of these 'Spanish Omelettes' heaps of times and, although I've managed to keep the centre soft and squidgy, I've never encountered a version like this where cutting into it rewards you with a runny (but not spooky runny like under cooked eggs) golden centre, like plunging you into a warm Spanish sunset. Bliss. Lucy realised it's been literally minutes since our last sweet dish so scanned the dessert items for an eye catching choice.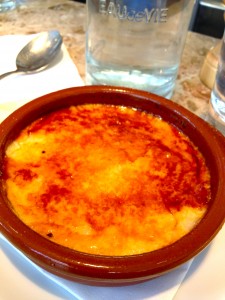 A discussion with the good looking bar staff and we quickly settled on a Crema Catalana but this became protracted as the entire set of them launched into attempting to describe what it actually is. A sister to Crème Brulée but with citrus peel and cinnamon infusion is what I learned from the discussion, but they would be keener on me passing on that it is the original (i.e before the French) and is lighter, less fat and also often served warm.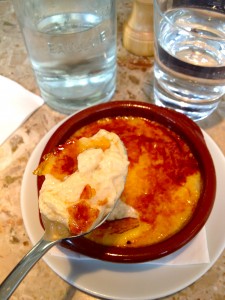 All of this paled into insignificance when the actual dessert arrived. A thick, very crisp, burnt sugar top plundered to reach the glistening super smooth, pale soft beige coloured (the only time beige is allowed anywhere) custard within. Hints of orange and a mild under pinning of musky spices makes this a sublime treat. We shared (grudgingly) but I urge you to order it and devour it by yourself. After all you deserve a treat, right? Incidentally there are heaps of people crammed behind the bar and this includes the chefs! It's like watching some kind of Michael Clark installation as they weave amongst each other and never seem to clash. But there is literally a couple of feet of space and dozens of people. The three waiters we had serving the six foot area of bar we were sat at were all perfectly formed, petit, hairy and arrestingly handsome. The food is good too…
What was about to happen has to be a secret between us. Time was running out and the last place we wanted to try is called Ceviche.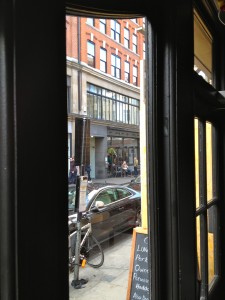 All well and good except it is literally across the street from Barrafina (we sat with our backs to Barrafina in case they busted us!), meaning we walked out and 23 seconds later were sat at the bar at Ceviche perusing their menu and had already spotted and decided upon a drink and the first menu item. All done with an air of French actress nonchalant coolness, bien sûr! (Actually, less Jules et Jim and more Kath and Kim…) Ceviche http://cevicheuk.com/ is a Peruvian restaurant, and no ordinary one either. Founded from frustration at the lack of Peruvian food available and now committed to offering up the freshest and most sublime dishes of the country. As per I'm coming to the party late (takes so long to wrangle my hair…)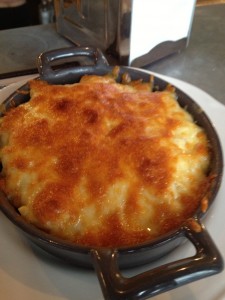 Ceviche has been open for six months already, which is half a year I've lived without their macaroni cheese (Huancaína Macaroni – Peruvian cheese and amarillo chilli sauce with macaroni pasta). I don't know how I did it but I guess ignorance was bliss…but now I'm doomed to waking in the middle of the night and thinking….mmm could just go a dish of that Ceviche mac'…can I tell you how incredible it is?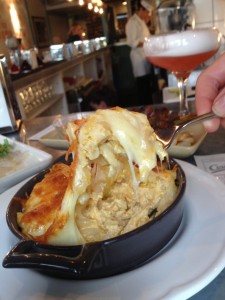 I mean, actually can I, rather than may I? (Grammar Geek.) I don't think I can so I'll just include lots of pictures. Sigh. (The Amarillo chilli is a medium heat, vibrant orange chilli that is the most commonly used in Peru.) Oh, we had heart too! Corazón (tender beef heart marinated in Panca chilli, Anticucho sauce with choclo corn).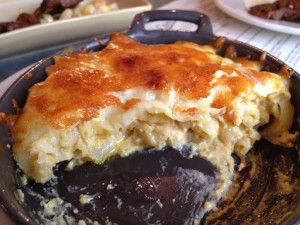 I love heart! I've been making heart for ages. (Lamb's in my case as the local butcher gets amazing fresh ones). They are such an inexpensive and nutritious source of loads of healthy things and are tasty too…oh come on! Be brave my friends! I'll write a heart post and convince you! Maybe for Valentine's day…? The dark red Panca chilli is another very popular chilli in Peru and it adds a slightly smoky , sweeter and mild spicy base taste to lots of dishes. I think the Anticucho sauce might be something I need to incorporate into my life on a more regular basis! This tangy, piquant sauce fuelled with pinging bursts of garlic, vinegar, cumin and warmed through with chilli is just a dream. Traditional Peruvian elements ideal for fusion into other dishes…
The final thing we tried for the simple fact that it is the dish that the restaurant is named for. Ceviche is fresh raw fish in a citrus based marinade with added bits and bobs like coriander or chilli.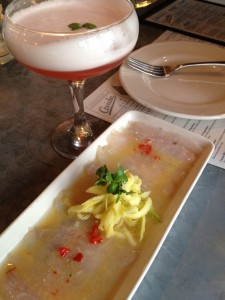 Citric acid in citrus fruits causes the proteins in the seafood to 'cook' (actually become 'denatured') – just watch lemon juice on smoked salmon to see it happening before your eyes! Ceviche (the restaurant) marinades in 'Tiger's Milk', which is their, lime based, version of the marinade, and they serve it straight away so the process is truncated. I wonder if a longer marination might be better in truth but I'll have to attempt this at home to see as Ceviche clearly think otherwise (and who am I to argue…I was just thinking out loud that's all…!?!) If you like sashimi then you'll love ceviche with its added thrill of a citrus burst (sounds like Harpic)…
Finally, yes finally, one simply cannot be in a Pisco bar without having a Pisco based product!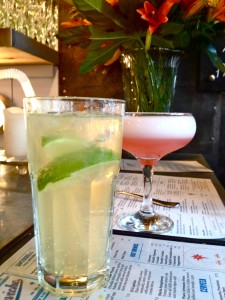 I ordered a Eucalyptus Chilcano (natch!) which is eucalyptus infused pisco with ginger ale, lime and Amargo bitters (peruvian bitters made from heaps of herbs, peels, roots and lord alone knows what to enhance and transform a cocktail). It was a (sub)lime – see what I did there? – experience. Lucy had a pink thing which due to the consumption of the eucalyptus thing I cannot remember anything about. It was lovely and it had egg white in it…oh and pisco, of course! Clearly I was a bit pisco-ed…