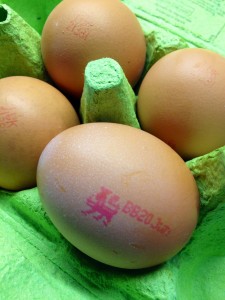 Go to work on an egg!!
That's what the egg people told us for years and we did as we were bid, but then the tide turned and eggs got egg on their own faces for being suddenly unhealthy. To the eggstent (sorry) that when the industry applied to re-run the ads in 2007, to mark their 50th anniversary, the request was refused as it was deemed that eggs were not healthy. Fools. Of course, the tide has turned and now we can gorge on them…apparently. Well, at least until the pendulum swings back the other way and we are warned off them…again…
When Egg-Gate reigned and Eggwina Curry was causing a scandal, eggs became vilified as evil purveyors of disease and cholesterol and the word on the street was even rubbing up against one by accident might kill you one way or another. Salmonella is rare now and time and studies have shown that the negative claims about cholesterol are not, in truth, er…true. Waves of attitude and decisions ricochette off the back of a breaking news story and eggs have never quite recovered in some ways and the UK is still the lowest consumer of them in Europe. Salmonella aside, people still think of cholesterol as a deadly enemy…but by now you must be on to the whole good and bad cholesterol thing, right? Right?!?
Okay, just in case, here's the deal…basically there are two types: Low Density Lipoproteins (LDL) and High Density Lipoproteins (HDL). One has been labelled good (HDL) the other bad (LDL). Not the best terms, or easiest to remember, but they serve a purpose. So Bad is in animal fats and animal products (that's why eggs got tarred with the same brush) and good from plant sources like avocado and nuts. Bad, naughty LDL has the function of carrying cholesterol to the cells for its vital purpose but when there's too much and it cannot find a taker, it just dumps it in the arteries (like a flyer distributor just junking the flyers in a lay-by). You NEED the good as it is not only part of the structure of every cell in your body, but it synthesises vitamin D, heals you, protects your nerves, helps your brain work and carries fat away from the liver etc. AND most importantly carries stray deposited LDL out of the blood stream and back to the liver to be recycled. Ok, so it's now accepted that eggs are good cholesterol and so hoorah! Let's hear it for eggs…!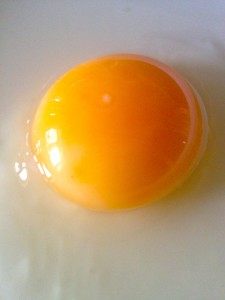 Apart from this whole eggs are a complete protein (sometimes referred to as a high quality protein). This means they contain all the essential amino acids that the body needs to build, repair and sustain and subsequently recommended for all age groups. They are low calorie and yet one of the single best sources of complete protein that exist. They also contain loads of vitamins (especially B5, B12, B2, E and D) and minerals (especially harder to get 'trace' ones like selenium, iodine and molybdenum). It is regarded as one of the best sources of a vitamin grouped into the B complex called choline (essential from brain development and function and protection of the liver). However, research shows that a hen fed on decent natural foods (hens are naturally omnivores and this range of food directly affects the eggs) can produce eggs with nearly 200% more high quality vitamins like E and D than a caged bird. Similarly, the yolk has beneficially omega-3 fatty acids but, again, only if the hen has been fed properly as…and this will be a almost tedious reoccurring theme…the egg is only as healthy as the food the hen has been fed. This is utterly key to the entire subject of the health benefits of eggs, so pay attention throughout please!! So, they are healthy and will keep you fuller for longer as well so we perhaps should return to the old , seemingly very sound , advice and go to work on an egg…but crucially the right kind of egg…
There are a zillion websites expounding at great length regarding the health benefits of eggs so I'll leave you to have a look at those because I really want to concern this set of posts with the nitty gritty of working out how to find a decent egg!
All is not as straight forward in the world of eggs as we might hope (when is it ever these days?!?) So how do we know a good egg from a rotten egg? How can we be sure the egg is a good quality product from a carefree and jolly hen? The subject is messy though (a right scramble) it's part nutrition, part ethical and more besides – throw in a silly politician and a few layers of what could be labelled as 'deceit' and we have a right good mystery, no? So it's on with Miss Marple's felt Garbo hat and time to find out what's really going on…
The real nub of this wrangle is the quality of the eggs and more specifically where they come from. Before any smartypants retort with 'out of it's____!!', I'll say I know it is 'laid' out it its 'vent' and how and why, but the point is what journey has that egg been on, and how has the hen been treated. The better the journey the better the nutrients in the egg. And as a perfect egg is clearly a perfect form of protein, keeps you fuller longer and has just about every key vitamin and mineral encased in them, surely  it is rather important isn't it to know the true bigger picture?
See part 2…